The Art of Feature Engineering
Essentials for Machine Learning
by Pablo Duboue, PhD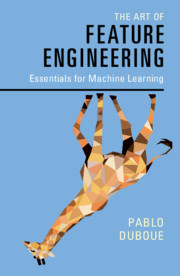 ---
This book is structured into two parts. The first part presents feature engineering ideas and approaches that are as much domain independent as feature engineering can possibly be. The second part exemplifies different techniques in key domains through cases studies.
Covers feature engineering material seldom presented in book format.
In one place summarizes dozens of blogs, videos, forum posts under a unified view and nomenclature. The book references more than 300 sources.
Focus on end-to-end performance rather than model performance.
Helps the practitioner obtain better end-to-end performance than just tuning model parameters.
Has a full section on variable-length feature data.
Helps the practitioner work with sets, lists, trees and graphs, traditionally problematic for statistical machine learning
Uses multiple domains to teach a topic that is domain dependent.
Practitioners working on new domains can study solutions in other domains to help build new ones on their own. Note that each domain uses a different language and the book bridges this interdisciplinary barriers.
Puts together a first-of-its-kind publicly available dataset for teaching feature engineering and uses it in four chapters.
It helps readers compare techniques across domains as different as text and images. Instructors can reuse the dataset for their class examples.
Contains the source code for all case studies, released open source.
The readers can look at the code for lower level details, the instructors can extend it and adapt it for their own classroom use.